Description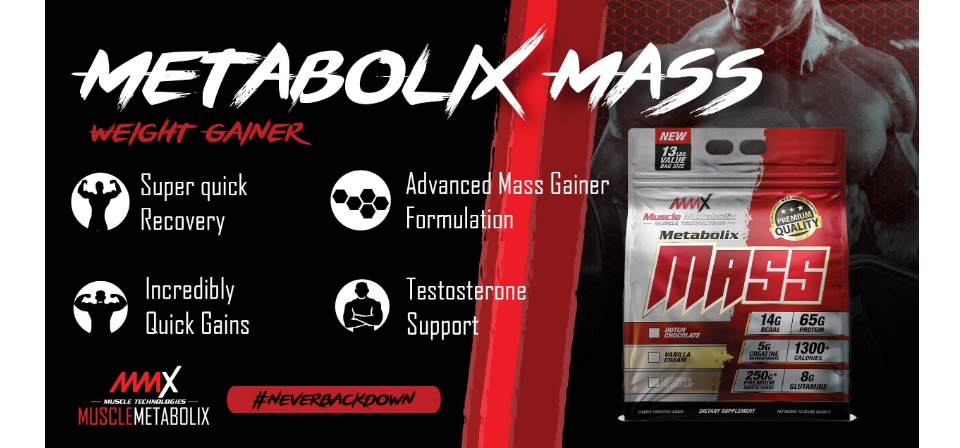 MMX METABOLIX MASS 13 LBS – WORLDS LEADING POWERFUL WEIGHT GAINER
Push your muscle mass to a whole new level with the most effective and powerful weight gainer in the world! Get ready to stand out in the crowd with your huge muscle mass!
To get truly huge, you need big calories with high quality protein, superior quality carb and more. Metabolix Mass is designed specifically to push your muscle mass gains to the next level.
The ideal macro nutrient profile in it is perfect for bodybuilders and other athletes who are looking to build muscle and increase strength without adding extra fat to their physique. Reap the rewards of all your hard work in the gym – Metabolix Mass has everything you need to bulk up, pack on muscle, smash through strength plateaus and make the kind of mass gains you've never experienced before!
Metabolix Mass 13 lbs features 65G of high quality protein, 250G of premium source carbs, 5G creatine, 8G glutamine and even 14G BCAAs. We dare you to stay skinny with Metabolix Mass!
A weight gainer supplement like you've never seen before. [100% MONEY BACK GUARANTEED] if this product doesn't come to your expectation. We are strongly confident that it's the ultimate and complete gainer you have been looking for.
WHY YOU NEED METABOLIX MASS?
14GRAM BCAA FOR MUSCLE GROWTH
HIGH 65GRAM OF PROTEIN PER SERVING
HIGH QUALITY TIME RELEASE PROTEIN
OVER1300 CALORIES WITH QUALITY INGREDIENTS
INCREASE QUALITY MUSCLE MASS WITHOUT FATS!
ADDED GLUTAMINE FOR SPEEDY RECOVERY
DESIGNED FOR HARD GAINERS
BUILD MASS AND STRENGTH
INCREASE TESTOSTERONE SUPPORT
MMX METABOLIX MASS GAINER 13LBS ACTIVE INGREDIENT

Whey Protein Isolate is popular among athletes, bodybuilders, fitness models, as well as people looking to improve their performance in the gym. Whey protein has been shown to be particularly effective at increasing muscle growth. Its also a higher source of quality protein.
Pea protein isolate contains all nine essential amino acids that your body cannot create and must get from food. It's also a great source of branched-chain amino acids, especially arginine — which promotes healthy blood flow and heart health — and leucine, isoleucine and valine — which promote muscle growth. It is also easier to absorb and digested.
Creatine is a combination of three different amino acids: glycine, arginine, and methionine. It's a fundamental component in how your body creates its primary form of energy in muscle cells, the compound adenosine triphosphate, or ATP. Creatine boosts strength gains and draws water into muscle cells to promote muscle growth
Zinc is an essential mineral, meaning that it isn't produced by your body and must be consumed as part of your diet. zinc's role in maintaining healthy testosterone levels. With high levels of testosterone, you can build muscles quickly
BCAA (branched chain amino acid) is useful for gaining skeletal muscle and maintaining mass. It increases protein synthesis and reduces protein breakdown
FAQ
1. Why do I need weight gainers?
If you are a hard gainer or looking to build huge size/mass, you have to eat and eat and eat in order to put on any muscle mass. Meeting the extreme calorie requirements that many have failed to achieve therefore weight gainers are the best forms of supplements to help you achieve your daily calorie goals! If you consider the fact that there are weight gainers available that pack in over a thousand calories per shake you can quickly see how effectively you could reach your 4000+ calorie needs per day.
2. Why metabolix mass is better?
High quality ingredient and awesome taste! In MMX Muscle Metabolix, we care for our customers! Lets face the facts. High solid 65grams of protein , 14grams BCAAs, 8G glutamine, and zinc! It's the best gainer available by far in our present market!
3. When to use it?
Use one serving (4-6 scoops) after workout and in the morning. (For best results, minimum 2 servings daily)
Warnings
Check with a qualified healthcare professional before taking this product. Do not use if you are pregnant, nursing, under the age of 18, have any known medical conditions, and/or if you are taking any prescription or over the counter medication. Do not exceed the recommended dose. To avoid sleepiness, do not consume within 6 hours before bedtime. Discontinue use and contact a healthcare professional immediately if you experience rapid heart beat, dizziness, severe headache, or shortness of breath. KEEP OUT OF REACH OF CHILDREN.